European Racing Events
We specialise in delivering racing dinghies to European events. This enables helm and crew to fly without the added time and stress of getting their boat there. We have two six boat road trailers as well as a number of other trailers and can take many different combinations of boats. We are based in Emsworth on the South Coast where we load the trailers. Boats can be delivered to us at your convenience and road trailers left until collection after the event. For some of the events it is also possible for us to load boats in the London area (normally at Datchet). Below are some examples of boats we have taken to European events:
"A friendly, efficient and most importantly, thoroughly reliable service"
(Paul Bayliss, RYA Projects Manager)
505s to Sicily, Italy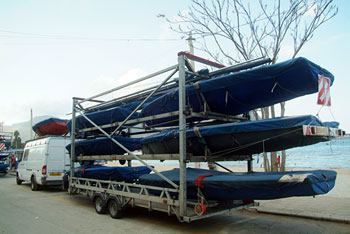 505 Packing Instructions
"It's not just the unique and truly bespoke service they provide that works for us, it's our ability to trust them implicitly that the boats will arrive perfect and on time"
(Riki Hooker, Sales Manager RS Racing)
Laser 4.7 to Trogir, Croatia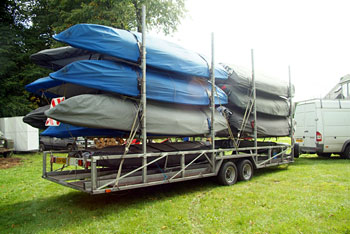 Laser Packing Instructions
Fireballs to Garda, Italy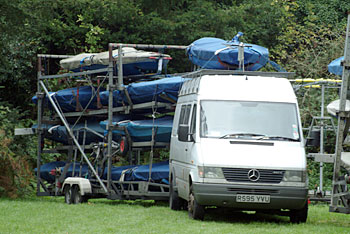 Fireball Packing Instructions
Toppers to Garda, Italy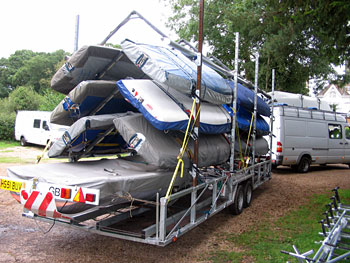 Topper Packing Instructions
"If you love driving hundreds of miles across the continent on the wrong side of the road, staying awake on a diet of Pro Plus and Coca Cola, being stopped and given speeding tickets by foreign traffic cops, don't use Sailboat Deliveries to get your boat to a regatta. Who'd want to miss that adventure?

But if all you want to do is jump on a plane, get to the venue and find your boat waiting for you in the boat park, Team Sailboat are the people. I've used Sailboat Deliveries loads of times to get to Garda and other places around Europe, and they get it right every time. If your holiday time is precious to you, then get Sailboat Deliveries to do the heavy lifting while you just fly and sail."
(Andy Rice, Yachts and Yachting)
RS800s to Travemunde, Germany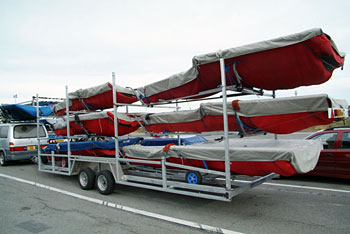 RS Packing Instructions
Laser 4000 to Sardinia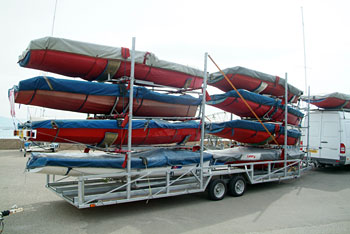 Laser 4000 Packing Instructions
Spares and repairs
At certain events we will provide a limited amount of spares and a repair service. (Repairs will be carried out to enable you to continue the event and may have to be completed in the UK.)
Sailboat Deliveries is a limited company and a member of the Road Haulage Association (RHA). We have commercial vehicle insurance with goods in transit cover and operate under RHA guidelines.
We also deliver marine products throughout the UK and Europe as well as racing dinghies and keel boats to European events.
We have a variety of vehicles and trailers to suit many different types of boats and boating equipment.
We can deliver large or small masts of varying quantities.
We frequently travel up and down the country as well as through Europe so small orders can be combined.
We have an extensive knowledge of competitive sailing and are able to give a full professional service when handing over boats and rigging on your behalf.